IBM's management is squandering the company's resources on acquisitions to make it look like the Watson Group is growing. The rest of the company will revolt, and IBM will have to take huge write-downs.
March 2, 2016
Executive Summary
IBM's management is in denial about their company no longer being a growth business. They are pushing hard for Watson to become their next growth driver. They are increasing their commitment to a technology that has no current practical applications, and lacks support from other tech players.
IBM's management is trying to create a make-believe business segment out of spare parts, buying and integrating companies that aren't even loosely related, and paying developers to use their technology to pretend that businesses are interested in their solution.
IBM's big Watson-oriented acquisitions of Truven Healthcare and The Weather Company are epitomes of irresponsible financial engineering. Both companies were private-equity owned, and widely publicized to be for sale. IBM bought them because they could, and not because they were a right strategic fit.
The management is wasting the company's financial resources for the sake a single moonshot, hoping for a miracle to happen. At this point, the management is pot-committed, and their growing desperation will lead to a company-wide crisis.
Analysis
IBM's management is in denial
IBM's shares are down around 40% from an all-time high of $215 reached three years ago. The cloud business segment has somewhat cushioned the recent decline in revenues. But the market is no longer pricing the company as a growth business, and much more like an utility, living off its long-term partnerships and customer inertia.
The management is fighting this image, by trying to push the Watson business segment as the next big thing, a stepping stone for growth. In 2013, IBM had set an internal target for Watson to generate $10 billion a year by 2023. While the company isn't willing to provide exact figures for this business segment, it's believed that the Watson Group had generated only about $100 million revenues up to 2014.
Watson is the codename for IBM's efforts in « cognitive computing »: a buzzword that they have come up with to describe a universal artificial intelligence algorithm. All existing artificial intelligence applications are designed to accomplish very specific tasks: determine the prevailing mood of a tweet, or recognize a face. IBM believes they can create something much more powerful -akin to HAL from Stanley Kubrick's « 2001: A Space Odyssey »-, a piece of software that would read all existing medical records to recommend a treatment for a given set of symptoms, for example.
Up to now, Watson's most notable, and most publicized, achievement, was to win Jeopardy against a set of human competitors, back in 2011.
IBM is remarkably alone in this approach, with over 85% of news flow about "cognitive computing" relating to the company, over the last 5 years (Chart 1). All the other tech giants are betting on less ambitious projects, with much more direct and precise applications ("artificial intelligence").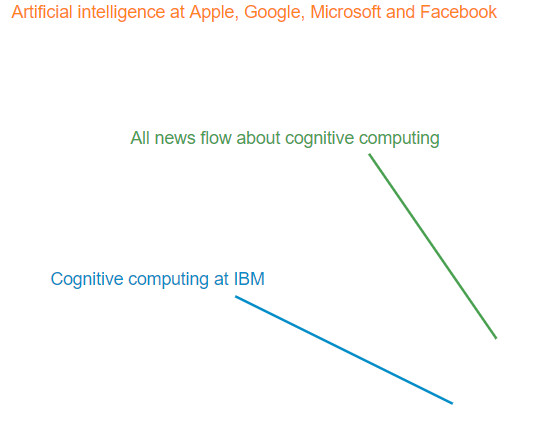 IBM is trying to create a make-believe business segment, buying companies to make it look like revenues are growing, and paying people to use its product
IBM describes its efforts in its 10-K as « Investing to bring Watson's capabilities to the enterprise and building a partner ecosystem, effectively creating a market for cognitive computing ». This translates into paying developers for using its technology. IBM is boasting that it has over 70,000 developers using Watson's API. This is far fetched: we understand that 40,000 of these developers come from its acquisition of AlchemyAPI, a small startup which had only a few million dollars in yearly revenues before its acquisition, and little to do with Watson's technology. Before Alchemy's acquisition in March 2015, Watson had 7,000 developers using its API. And there's absolutely no rationale for the 40,000 developers who used AlchemyAPI's technology, to use Watson.
Moreover, IBM is committing $100 million in "venture investments to support an ecosystem of entrepreneurs developing Watson-based apps". Translation: they will pay people to use Watson. This is exactly what the EU is trying to do with its FIWARE program: paying startups to use a technology nobody wants. The result is sadly predictable: startups are entering the FIWARE contest with side projects that have little to do with their original idea, just to get the money and use it elsewhere. The same will happen with Watson, startups will take the money, pretend to use it for a while, and IBM will get some PR out of it, but no actual clients.
To make it look like Watson is generating revenue, IBM is buying up other companies, and consolidating their existing users and revenues into its Watson Group business segment. Recently, it has acquired the medical imagery company Merge Healthcare (for $1 billion, with revenues of $212 million), and the healthcare data services company Truven Health Analytics (for $2.6 billion, revenues of $500 million). Both companies have no profits to speak of.
The acquisitions are receiving media coverage, but it's all for show (Chart 2).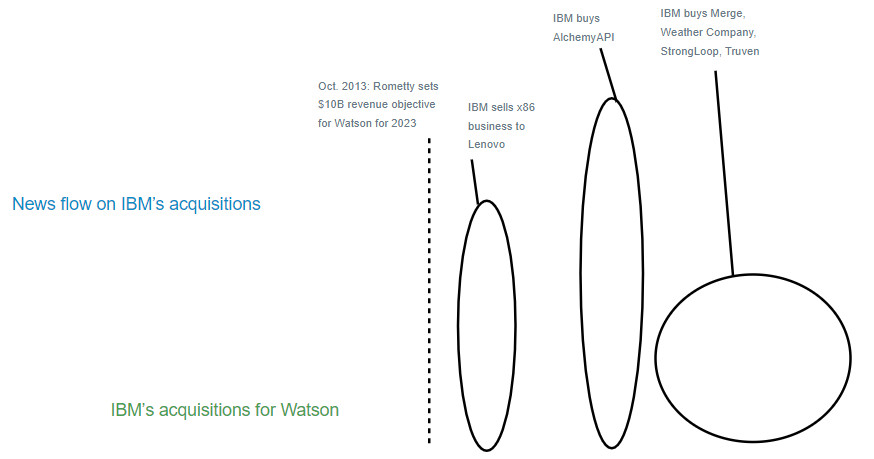 IBM is also buying the digital assets of the Weather Company for close to $2 billion, and will name David Kenny head of the Watson Unit. Up to now, Michael Rhodin, an IBM old-timer, was directing the group's operations. It is unclear which streams of revenues from the purchase will be recognized under the Watson umbrella, or how one should interpret this managerial change at the top of the project.
Sure, if IBM is willing to spend $50 billion over 7 years, paying 5x revenues for an alphabet soup of companies, they will end up with a melting pot of various businesses with total revenues of $10 billion, achieving its « target ». In a big leap of faith, they will integrate them all together, and hope that Watson's miracle technology will somehow make it work as one cohesive operation.
In a financial engineering stunt, IBM is acquiring companies because they are for sale, not because they are a good fit for Watson
The acquisition of Truven Health Analytics is a red flag in itself. The company is a spinoff of Thomson Reuters' healthcare business, and was acquired in 2012 by Veritas Capital, a private equity firm, in an LBO-type deal. The transaction was financed with $464M from Veritas, and $955M in debt from banks and bond issues. In 2010, 2011 and 2012, Truven had stable revenues of $450M, and little profits. Its revenues suddenly climbed to $544M in 2014, thanks to acquisitions of Simpler (for $81M), JWA ($15M), and HBE ($17M). "Growth through acquisitions" was a stated development plan for Truven on its 10-K. It's a well-known practice in private equity: buy a company with little prospects, beef it up through acquisitions to make it look like revenues are growing, and resell it as a growth story at much higher multiples.
It worked, because now IBM is buying the resulting company for $2.6 billion. We couldn't find if the figure includes existing debt or not; in any case, that's a very nice payoff for Veritas on their $464M investment over less than four years, in a play that reeked of financial engineering from start to finish.
Truven was rumored to be eyeing an IPO back in March 2015, in a standard cash-out move for private equity – owned businesses. It's unclear why they didn't go through, maybe market turbulence put a dent in their plans. Knowing that, it seems that IBM simply bought a company that had a huge "for sale" sign all over it. That's way less sexy than the official story of "integrating healthcare data into Watson".
The Weather Company was another case of corporate dismemberment engineered by private equity experts. After a $3.5 billion buyout in 2008 by NBC, Bain and Blackstone, it struggled to pay back its sponsors' investment of $1.9 billion despite going through layoffs and reorganizations. It barely managed to eek out a debt-funded $600 million dividend in 2013, and was said to desperately seek a buyer during 2015 (they had hired Morgan Stanley and PJT in August as advisors for a potential sale). IBM's offer was a godsend to the sponsors, who were stuck with an over-leveraged, loss-making bet.
Once again, IBM acquired a PE-owned company that was seeking a buyer. With the IPO window closing fast as the worldwide stock rout continues, IBM seems to be happy to provide an exit for deals gone sour.
Table 1:
Complete list of IBM acquisitions for the last two and a half years, source: Wikipedia, SEC filings
| | | | |
| --- | --- | --- | --- |
| Date | Target | Business | Description |
| 10/1/2013 | The Now Factory | Mobile, Data Analytics | Mobile Networks Big Data Analytics |
| 10/3/2013 | Xtify | Mobile | In-app mobile messaging and push notification tools |
| 11/13/2013 | Fiberlink Communications | Mobile | Mobile Device Management |
| 12/19/2013 | Aspera, Inc. | Cloud | Data Transfer Technology |
| 2/24/2014 | Cloudant, Inc. | Cloud | Database-as-a-Service |
| 4/10/2014 | Silverpop Systems, Inc | Cloud | Behavioral Marketing Automation |
| 7/31/2014 | CrossIdeas | Cloud | Cloud Security |
| 8/11/2014 | Lighthouse Security Group | Cloud | Cloud Security |
| 3/4/2015 | AlchemyAPI | Watson | Natural language processing, big data |
| 3/27/2015 | Blekko assets | Watson | Web Search Engine, Cognitive Computing |
| 4/13/2015 | Explorys | Watson | Healthcare analytics |
| 4/13/2015 | Phytel | Watson | Health management software |
| 6/3/201 | Bluebox | Cloud | Private Cloud as a Service |
| 7/23/201 | Compose Inc. | Cloud | Database as a Service |
| 8/6/2015 | Merge Healthcare Inc. | Watson | Healthcare imaging software |
| 9/10/2015 | StrongLoop Inc. | Mobile, Data Analytics, Watson | Mobile API capabilities |
| 9/28/2015 | Meteorix LLC | Cloud | Consulting services for Workday applications |
| 10/28/2015 | The Weather Company digital assets | Watson, IoT | Weather data sources and analytics, related online and mobile products |
| 11/3/2015 | Gravitant, Inc | Cloud | Cloud brokerage software and cloud management |
| 11/6/2015 | Cleversafe | Cloud | Object-based storage software |
| 12/8/201 | Clearleap | Cloud | Cloud-based video management |
| 1/15/201 | Iris Analytics | Security | Real time transaction fraud detection |
| 1/21/2016 | Ustream | Mobile | Streaming video |
| 1/28/201 | Resource/Ammirati | Mobile | Digital marketing and creative agency |
| 2/2/2016 | Aperto AG | Mobile | Digital marketing and creative agency |
| 2/3/2016 | exc.io AG | Mobile | Digital marketing and creative agency |
| 2/18/2016 | Truven Health Analytics | Watson | Provider of cloud-based healthcare data, analytics and insights |
The management is pot-commited, and wasting precious resources on a bluff, hoping for the market to believe them
IBM's management has its reputation at stake at this point. They have to show "progress". They are buying assets right and left to beef up their bottom line, while rationalizing these steps as "acquiring data to strengthen Watson's knowledge of everything".
The amount of news flow about Watson has reached 20% of all news stories about IBM, and is closing in on the news flow about its cloud business. This PR effort about a business segment with negligible revenue, and only hopes of a product that could interest customers, smells of desperation. IBM even went to TechCrunch Disrupt 2015 in an attempt to woo startups into using its technology. They couldn't look more like Hooli and its pathetic Nucleus project from "Silicon Valley", if they tried.
The more IBM will boast about Watson as the "next big thing", the harder it will be for management to admit that their strategy isn't working. In the meantime, the other departments will see their hard-earned profits are being squandered on a useless, loss-making pet project. At first, top management will silence the naysayers. Watch out for key people leaving the company for "personal reasons". After a while, the non-Watson, profit-making departments will revolt, and topple down the top management. The company will take a gigantic writedown, and its share price will crater.
Roadmap & Playbook
IBM's tangible book value per share stands at around -$20. The company's value resides in its free cash flow, which is huge, at around $13.7 billion per year. However, they've just spent over $5 billion in just three acquisitions (Merge, Truven, and the Weather Company) for their Watson unit, in hopes of creating something out of nothing. Should the Watson long-shot fail to materialize, their whole business model will be up for review.
Management is buying companies at 5x revenue; to get to the $10 billion mark before 2023, they'll need to spend $6 – $7 billion a year for the next seven years. Stripping out the Watson make-believe fantasy, IBM's real earnings are thus just half of what they look like. We expect the stock to halve down to $70, fueled by a company-wide revolt and a huge write down.
January 2018 puts with a strike at $100 are trading around $3.50. If our disaster scenario materializes and IBM's "growth" strategy fails (after eating up its already dwindling profits), this would be a 10x – payout play.
Probability

   Event

Early signs

50%

IBM's management gets invested in Watson too much to admit that the technology isn't working until it's too late. They waste precious resources to make it look like the business is growing, until an internal revolt leads to a huge write down, and a plummeting stock price.

News coverage of Watson remains all about hype, and little about revenue and profits.

IBM keeps acquiring companies right and left, putting them all under the Watson Group umbrella.

IBM keeps increasing its incentive spending to attract developers and partners.

People in long-standing key management positions quit for unspecified reasons.

30%

IBM cuts its losses, takes a write down on Watson's acquisitions, and moves on.

Shakedown in IBM's top management.

News coverage of Watson fades.

20%

Watson becomes the next growth driver for IBM, and the company becomes a leader in a new market for cognitive computing. They manage to reinvent themselves as they did with mainframes.

Companies start using Watson outside of IBM-induced partnerships.

Applications using Watson's API actually make money for their developers.

Other companies than IBM get involved in "cognitive computing".