Culture, Team and Lifetime Friendships
At its core, The Guerrilla is an SEO and digital marketing agency. We chose the term "Guerrilla" because we help our customers promote their products or services by using our high energy communication skills and personable memorable writing and techniques.
Relationship Focused – Guaranteed Results
When we started The Guerrilla Agency, we noticed that there were dozens of marketing agencies that weren't producing the results that their clients wanted. On top of that, most marketing agencies don't operate on our two core principles – communication & trust. At The Guerrilla Agency, you can have our word that we'll go out of our way to ensure that our communication is on point and all expectations are met and exceeded upon.
LOCATED IN DOWNTOWN MINNEAPOLIS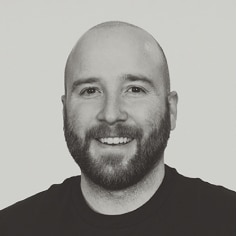 Lead Visionary / Business Development
AJ had the entrepreneur gene long before it became a trend. After getting his degree in entrepreneurial studies at the University of St. Thomas. He started his own agency, The Launch. This was the seed that eventually sprouted into The Guerrilla Agency. There's nothing AJ loves more than creating results for a client, as he sees his own entrepreneurial spirit in our clients, and strives to make his success theirs as well.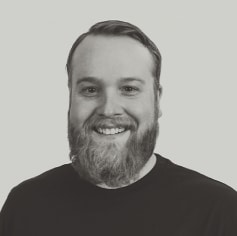 Our project manager, Kirk, got his start in mastering efficiencies by producing and directing a wide variety of commercials, corporate videos, and broadcast television. Over the years he worked his way up to Director of Media Productions for the 5th largest mortgage company in the country. After six years in Philly, he decided it was time to move back home to the land of lakes and became a part of something special here at The Guerrilla Agency.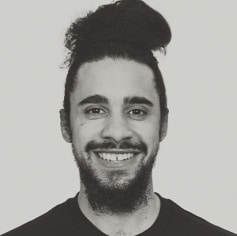 As our creative director, Sam brings conception to reality with your preferences at the forefront of his process. His extensive writing career spring-boarded his love for alternative content avenues such as photo, video, and even the occasional meme. Through years of freelance and agency experience, along with HubSpot's content academy, he is constantly improving his craft through intrigue and continuing education.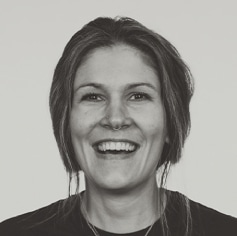 Jenny, brings a breadth of experience writing in an array of markets some of which including blogging, copywriting, technical, social media, publishing, and manuscript review. Her writing experience is portrayed in her ability to mold easily to brand voices and continuous drive to grow creatively. She enjoys finding innovative approaches to projects that may not otherwise be seen and is always looking for the next way to continue strengthening her technique.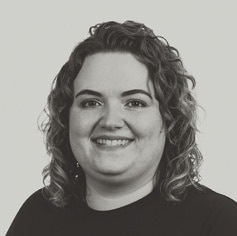 Chelsea has been entrenched in custom code for over a decade, delivering interactive users experiences across the web. Her keen eye for detail and inventive approach to development and making the impossible happen, makes her an invaluable member of the team. Building her education at St. Kate University and the University of Saint Thomas in Web Development, Chelsea is a force behind any keyboard, delivering outstanding results for our clients.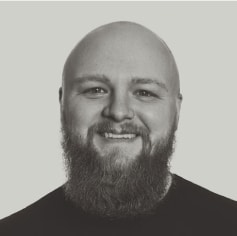 Brandt's obsession with search engines developed at a young age. Naturally curious, he spent countless hours of his childhood searching for the answers to every question that popped into his head. After graduating from The University of Minnesota: Twin Cities, he began a career in digital marketing that has seen him in various roles. These days, Brandt combines his SEO knowledge with his experience in content strategy, copywriting, and project management to find the best possible solutions to digital marketing challenges.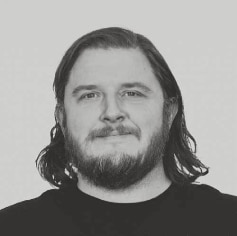 Jarred leads SEO strategy for our clients at Guerrilla. Driven by a deep curiosity for how people use the internet to find what they need, he has spent the last 15 years tearing apart the internet and scrolling through Google's patents to find out how it ticks.
When not poring through keywords or researching the latest SEO tactics, Jarred likes to spend his free time roaming around the U.S., exploring small towns and wandering through our national parks.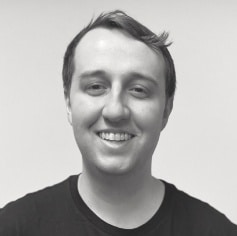 Video and narrative have been a fundamental part of Kyle ever since he first got a hold of a camcorder as a kid in rural Colorado. Graduating from Montana State University with a degree in film & photography, he found a new home in the Twin Cities where he's continued his craft in filmmaking and visual storytelling. His dedication and creativity ensure quality. When Kyle isn't hard at work he's hanging on the couch with his wife and cats watching movies.
Gallons of Cold Brew Drank Weekly
Office Overlooking Downtown
Active Clients taking over the internet
Clayton Owned Clayton Johnson
Clayton started his journey into digital marketing over a decade ago by launching Clayton Johnson, a premier SEO/strategist firm. 
AJ Owned The Launch Agency
AJ had worked as a freelancer prior to starting The Launch Agency. At the time The Launch specialized in helping small to medium-sized businesses with all things digital.
When Clayton & AJ met, magic was in the air and sparks flew! Clayton and AJ collaborated many times and helped each other grow in business and as individuals. 
The Guerrilla Agency is Born
Fast forward a few years and Clayton & AJ partnered up. Since then, Clayton's been setting them up and AJ's been knocking them down and The Guerrilla Agency has grown over 200% in the process.