All businesses no matter what the size shouldn't overlook the importance of marketing. While most eCommerce companies (due to the fact that they're online) are practicing some form of digital marketing, some are not. No matter how great your product or services are, your potential customers need to hear from you and see you, before they can buy from you. Marketing (when done right) can help build your brand, drive awareness to your eCommerce site, and produce leads and sales.
Many eCommerce business owners think that their marketing spend begins and ends with posting on their social account twice a week. While social media marketing is an important aspect of a digital marketing budget, it's only one avenue on the large-scale digital highway.
While the title of the post implies we're going to be digging right in to get you closer to a perfect eCommerce marketing budget, we need to first spend a bit of time educating you on the most popular digital marketing channels that eCommerce companies can utilize.
The Biggest Online Marketing Channels
Google Ads
"Google Ads is an online advertising platform developed by Google, where advertisers pay to display brief advertisements, service offerings, product listings, video content and generate mobile application installs within the Google ad network to web users."
Google Ads can be in the form of search, display, shopping, video, app and automated.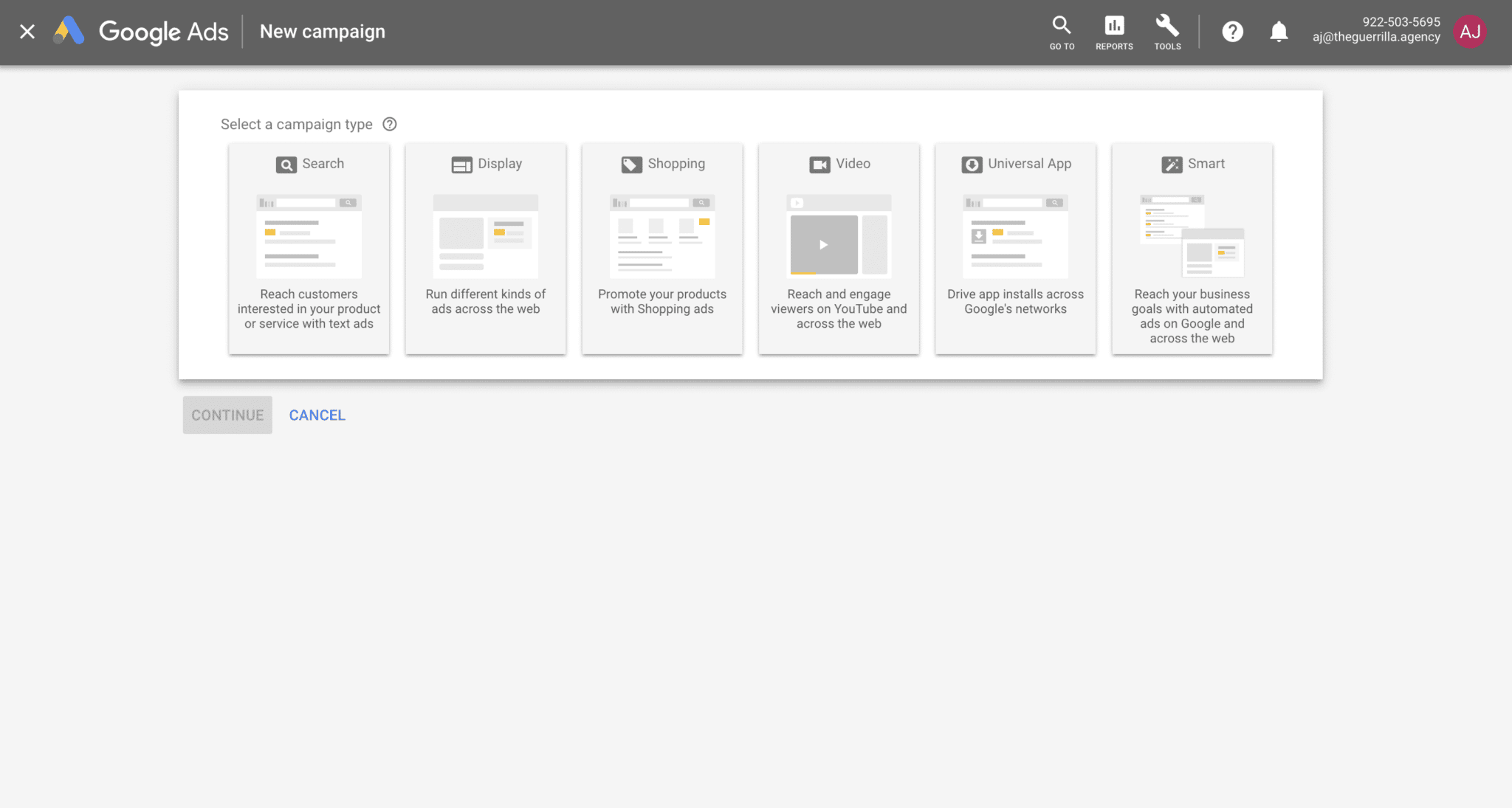 Most likely you've seen their search advertisements.
Annnnnd you've probably seen these guys follow you around the internet. These are retargeting campaigns.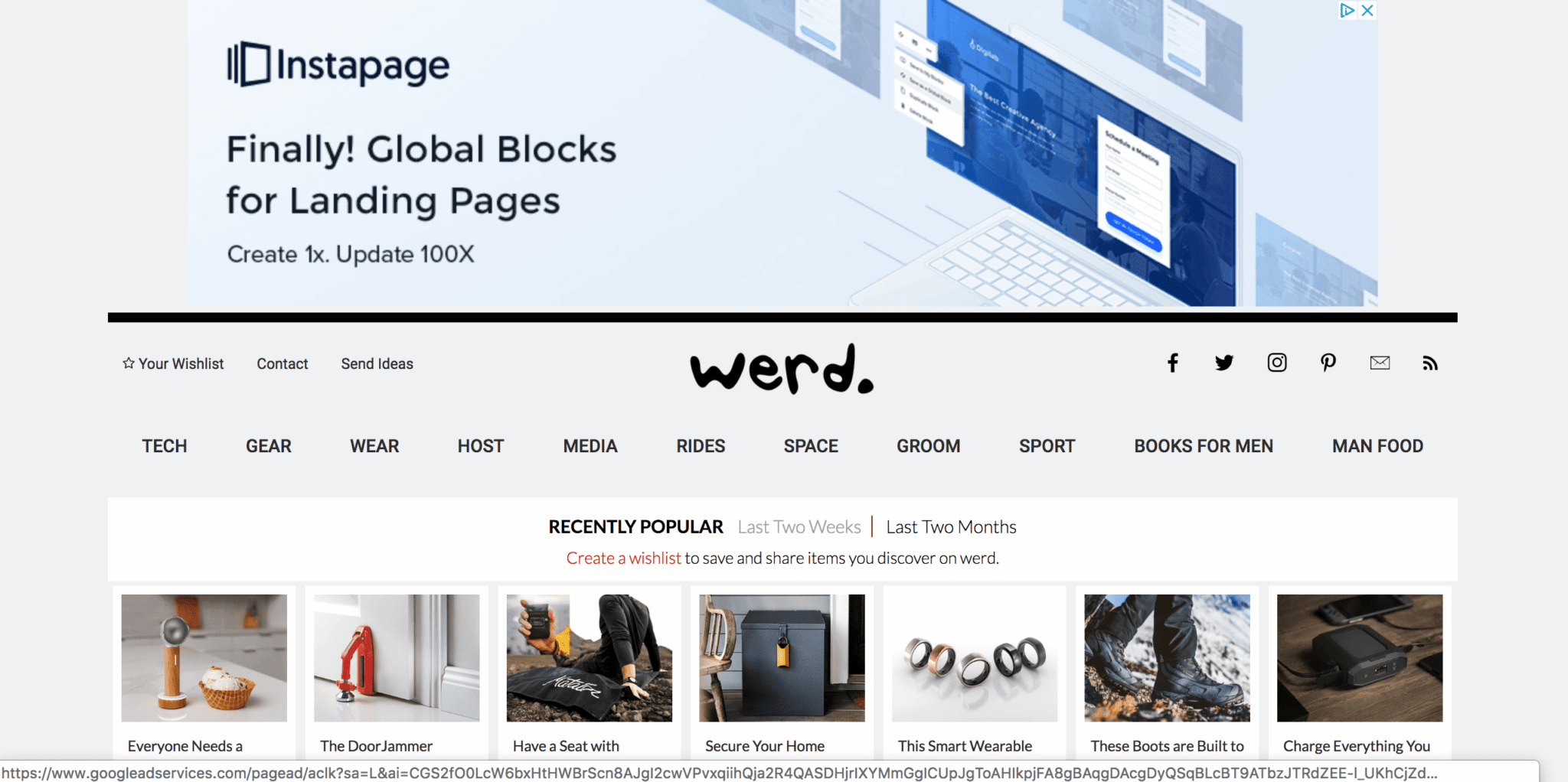 *Note the Instapage advertisement
Organic Search
Organic SEO (search engine optimization) is the term used to describe the process of ranking higher in search results that are not paid. These search results usually have a higher click-through rate than paid traffic and are absolutely free.
You can see when someone types in "eCommerce marketing budget" the first four results are paid ads, and the first organic listing was written by BigCommerce.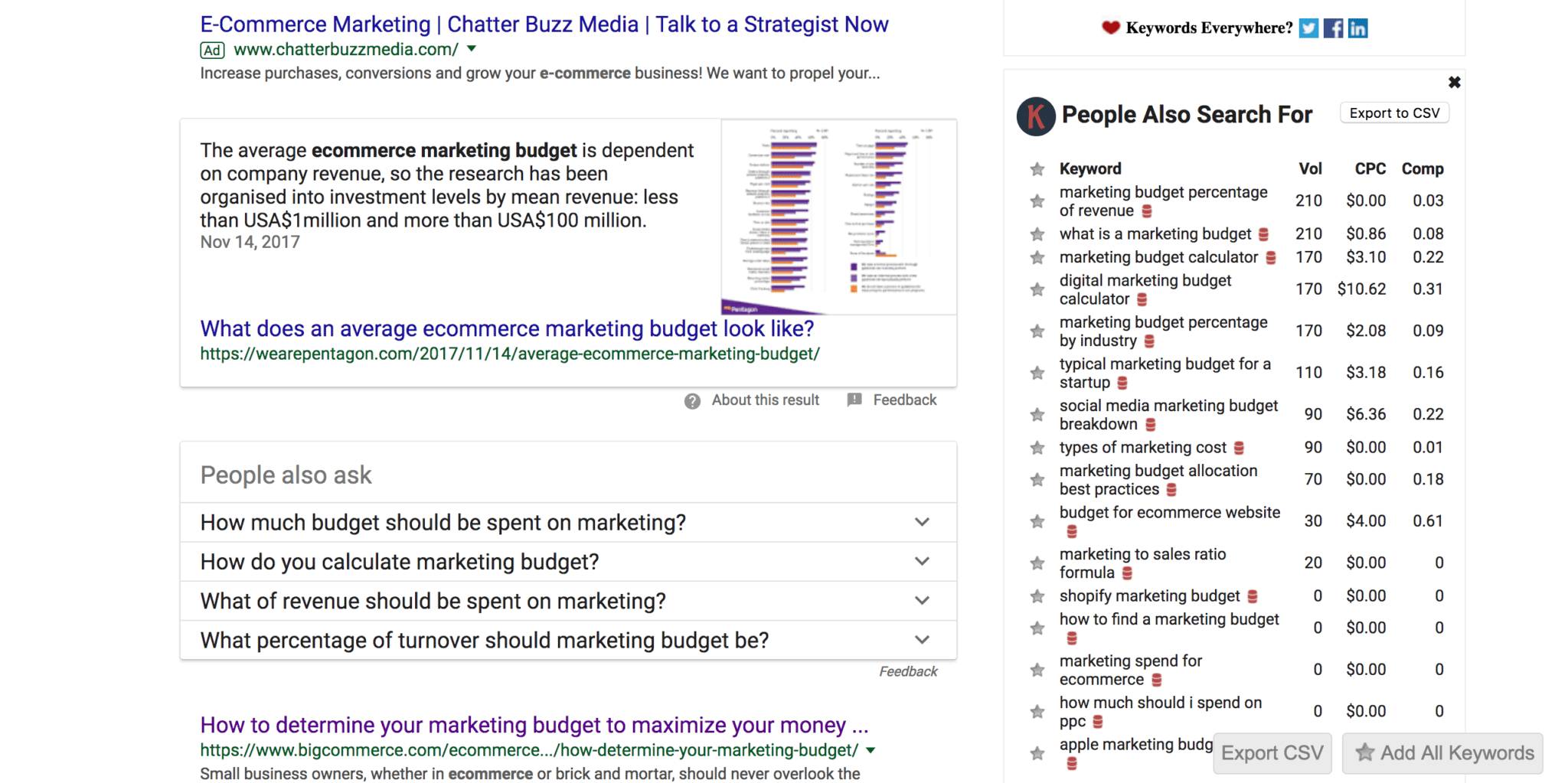 Facebook Ads
"Facebook Ads can appear in News Feed on desktop, News Feed on mobile, and in the right column of Facebook on desktop. Ad content is sometimes paired with news about social actions that your friends have taken, like liking a Page."
Facebook Ads are NOT free. I.E. If you're posting to your Facebook news feed on a daily or weekly basis, this is not a form of paid advertising.
I actually found a great example on my Facebook today of a newsfeed ad and a sponsored ad that shows up on the right side of the desktop, both of these ads were from TeaSource (because I was looking into getting some black tea on their site).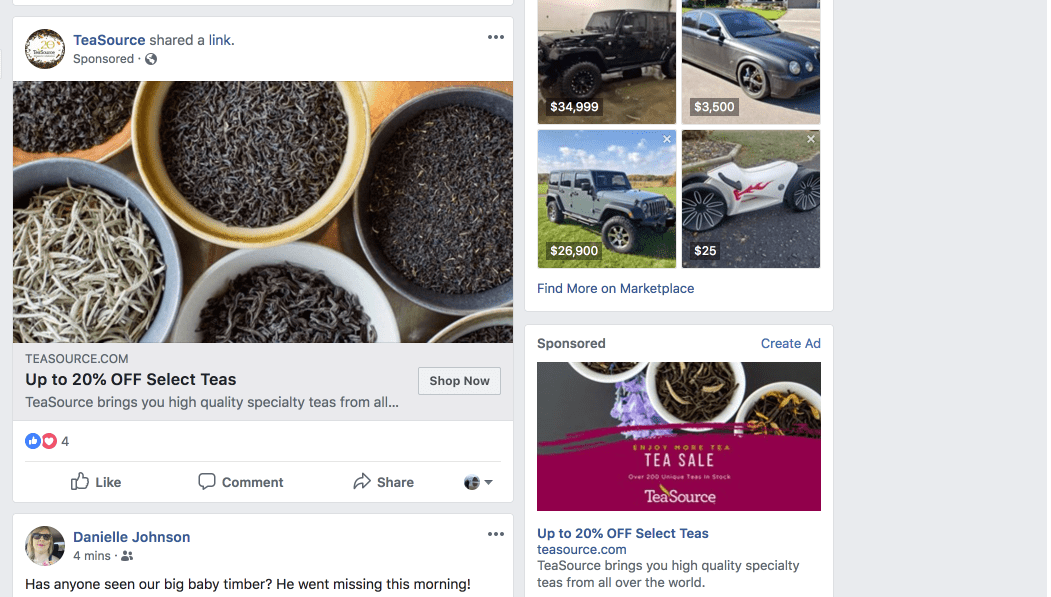 *You can also see here that I'm into Jeeps 🙂
There are many other forms of SMM (social media marketing/advertising) including Twitter, Linkedin, Snap Chat, etc. However, Facebook has a pretty mature ad platform, so it's a fantastic place to start/a great example we can use.
Email Marketing
Email can be seen as a stand-alone strategy or as a supplementary strategy to the above marketing channels. Email marketing by definition is "The use of email to develop relationships with potential customers/clients." Email marketing is a smaller segment of overall digital marketing, but an important one none the less.
When people think of email marketing they most likely are thinking of email nurturing/automation campaigns. Email nurturing is the process of developing relationships with buyers at every stage of the sales funnel and through every step of the buyer's journey.
Content Marketing
Content marketing is extremely similar to storytelling. The point is to provide the most valuable information that will result in a heightened brand awareness and will drive leads and sales to your website for a profitable transaction. Content marketing is supposed to build relationships with potential customers and focus more on adding value than trying to directly sell.
This entire piece of content you're reading is a great example of content marketing. You have an eCommerce site, and we're helping you decide what you're marketing budget is.
Now that we've covered our bases on the most commonly used forms of digital marketing, we can move on to (debatably) the most important step of all…tracking.
Start with Tracking
We can't stress enough the importance of tracking the above marketing channels through your website. We've written about the importance in the past, but ultimately, here's where you want to be.
1. Everything is tracked through your site
2. Your humming along and spending advertising dollars
3. Because everything is perfectly tracked, you know which channels are giving you the best conversions
4. You spend more money on those channels
5. YOU MAKE MORE MONEY BECAUSE YOU ARE EFFICIENTLY SPENDING YOUR MARKETING DOLLARS!!!
Here are some of the most common things we're going to track in Google Analytics. *Note, if you haven't installed Google Analytics to your site, stop reading this and do that now…
1. Conversions by traffic source
If you know exactly where your traffic is coming from (Google, Facebook, Email, etc.) you can tell which channels are driving the most traffic to your site, and what ones are getting the most conversions.
2. Conversions by device type
It's important to have a responsive site in 2018, but more importantly, it's important to know if your customers are using mobile. Knowing what devices your customers are using helps you tailor the UX (user experience) to those device types.
3. Conversions by product
If you have more than one product in your online store this is extremely important. Utilizing this, you can track individual products and compare them. From here, you can spot trending products/services and you can also find products that aren't performing as well as they should.
4. Customer lifetime value (CLV)
This metric is a prediction of the net profit that one customer is going to attribute to your business. As the old saying goes "it's easier to upsell an existing customer than to acquire a new one." In addition, these returning customers are your little referral marketers (that aren't being paid). In this data backed report, it shows that 55% of customers say reviews online influences buying decisions (https://neilpatel.com/blog/5-ecommerce-stats/)
5. Average order value (AOV)
If you get $30,000 in revenue this month and you made that over 10 orders, your AOV is $3,000 per order. This is an important metric in understanding the CLV further.
6. ROI
ROI is calculated by taking all the time, energy and cold hard cash that's put into marketing your products/services and devide it by the outcome. I.E. If you spend $10,000 on marketing and got sales of $20,000 your ROI was $10,000 or 100%.
This would be easy to do if it worked like this month over month. However, you might have someone look at your site once in January and then buy in March. When you have transactions like these, it gets more complex to judge the ROI on marketing spend.
Let me use my example above again
1. Everything is tracked through your site
1A). You added the Google Analytics code, and set various goals and tracking parameters in Google Analytics.
2. Your humming along and spending advertising dollars
2A). You spend $5,000 on Adwords this month.
3. Because everything is perfectly tracked, you know which channels are giving you the best conversions
3A). Over three months Adwords get's you 65 conversions with an average order of $550. Those transactions took place over the course of three months.
Total campaign revenue – $35,750
AOV – $550
Transactions – 65
Adwords Investment – $15,000 (5K/Month)
ROI – $20,750
4. You spend more money on those channels
4A). Over the next three months you double your adwords spend to 10K/month.
5. YOU MAKE MORE MONEY BECAUSE YOU'RE EFFICIENTLY SPENDING YOUR MARKETING DOLLARS
5A). Over the course of the next three months, you predictably make 70K+.
As discussed, this guide doesn't go completely in depth on how to track your marketing efforts in Google Analytics, but it does give you a foothold on the importance of figuring that out.
We recently gave the Monsterinsights plugin a try for our WordPress site and we were pretty impressed! If you don't have a developer on staff, its a great way to get the enhanced eCommerce tracking code added from Google Analytics.
Finally, the juicy moment you've all been waiting for (unless you skipped ahead). In this post, we're going to discuss three methods for deciding an eCommerce budget.
Three eCommerce Marketing Budget Strategies
1. Percentage of Revenue
In general, it's a good rule of thumb to start with a percentage of overall revenue that you'd dedicate to your marketing budget. We're not in your business, so we can't give you exacts, but a great place to start is somewhere between 5-10%. We've seen other metrics out there arguing for more, but if you're reading this post, you're most likely just starting out, in which case we don't want to get too far ahead of ourselves without testing the waters first.
The main advantage to using a percentage of revenue as opposed to a fixed budget (discussed below) is that you would never go into the red trying to fulfill some arbitrary marketing budget. Also, the other advantage is that with increased revenue, you'll increase your marketing budget thus expanding your business even further. The percentage of revenue path also discourages overspending, because it's always going to be on a percentage of revenue.
If your business is in a situation that you're barely getting by, it might not be wise to use a higher marketing budget percentage (10%) and instead, stick with a lower budget (5%). The flip side of this statement is that marketing is required for growth, so it's not always a bad idea to cut into an already slim budget to increase sales for the year.
I.E. Make money from month A and push 5% of your profits into month B's marketing budget. If that produces some results and doesn't tank your company, move it up to 7%. Keep a close eye on your numbers, but try not to overthink it.
2. Fixed Budget
Brand new businesses may feel the need to be more careful with their income as they are just taking the first step into entrepreneurship. This could be the case when you first quit your 9-5 and don't have a substantial income from your business (yet). In your first year of business, you might want to throw out an arbitrary number that you feel comfortable with and stick to it. If you're not basing this off revenue, the idea would be to start at a lower dollar amount and work your way up.
It's important here (along with everywhere else) to have some established goals in mind. You're going to want to be working toward some type of tangible business goals (increasing sales by 5%, increasing revenue by 2%, etc.)
When thinking about how much to spend here, we'd recommend starting with one channel and $500. You could also ask other business owners in your niche or research your competitors and calculate their budgets. If you have more to spend, you can spend more, but it's really important to experiment with different channels and determine which ones are giving the most bang for your buck.
3. Return on Investment
Return on investment is just a calculation of business strategy and marketing effectiveness. Calculating ROI separates the professional marketers from the lamens, and it gives you a thorough understanding of your marketing budget and efficiency of your campaigns.
In essence, ROI is the amount of money you spent on your marketing budget and the amount of revenue you gained from that spend.
1. Spend $1,000 on marketing
2. Get $2,000 in revenue
3. You have a 100% return on investment
Marketing is NEVER as straightforward as this example. Many advertising channels have positive effects that aren't tracked as easily as you extend the timeline from weeks to months.
Generally speaking, even a lamens marketer should be able to do some digging around the internet and come up with ways to effectively track his/her campaigns. From there, you'll take the ROI you receive on your marketing efforts and invest further into the efforts that are working for your business.
KISS ME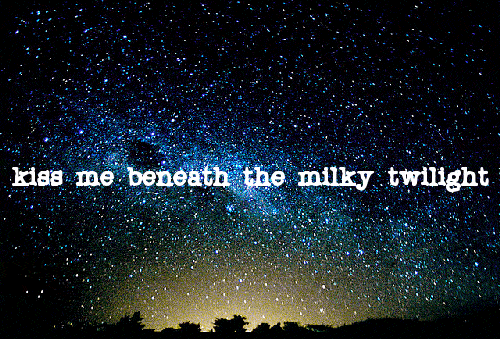 KISS stands for "Keep It Simple Stupid." I didn't mean to freak you out with an overabundance of information, just work on keeping it simple. Here is a list of action items on how to nail your first marketing campaign and hopefully come out the other end with a positive ROI.
1. Setup Google Analytics on your site and learn how to track your campaign metrics
2. Setup a basic Adwords Express campaign (if you've never done it before start with a fixed $500 budget)
3. Let the campaign run for a month.
4. Measure the results.
5. Tweak and learn