Have you ever clicked on an Ad while scrolling through Facebook, or double tapped on an Instagram Ad while mindlessly swiping through your feed? You're not alone, don't sweat it.
We all talk about the Facebook thread holes we've sunk ourselves into or the Youtube abyss's we've been lost in. But we also end up on the ecommerce train, sometimes without even knowing it.

Let's talk Facebook. Their global reach and tremendous user base makes their platform a must-have for advertisers. Nearly 1 billion users log in every single day. Their audience is extremely engaged and over the years marketers have been able to use acute data to target specific demographics with their campaigns. Nearly 93% of marketers in fact, choose Facebook as an advertising platform.
The ROI isn't too shabby on Facebook either. The platform allows a variety of company sizes to succeed. From small businesses and massive enterprises — Facebook advertisements have helped countless businesses get their product or services in front of the right audiences, at the right time.
One of the reasons why we love Facebook ecommerce ads is their diversity. Content marketing has become standard — and the creative ways brands can create captivating ads has only exponentiated. It's also a great way to promote your brand's identity. Funny videos or meme like images can illustrate lightheartedness and fun work culture. Thoughtful or even politically charged campaigns show a stance that can resonate with a target audience as well.
Driving traffic and increasing conversions with ecommerce ads is all about finding the right message for the right audience. There isn't a one-size-fits-all solution for these types of ads. This may be discouraging to some, but it truly gives your brand an opportunity to create catered content for the right audience. That's pretty exciting if you ask us.
Here are some great examples to stir up some inspiration.
Slack: Make Work Better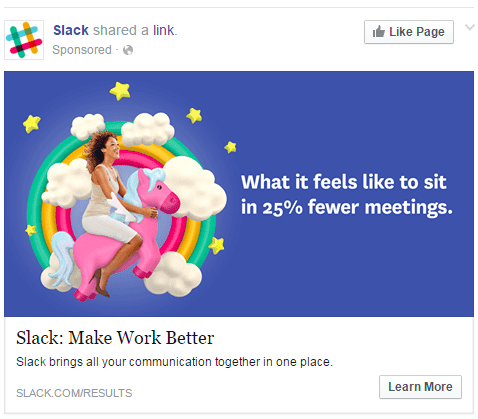 Slack ads pop up on my feed all the time and I'm consistently impressed by how targeted and concise their messages are. This specific ad is doing a lot of subtle things, and doing them well. The bright colors catch your attention. The playful jab at pointless meetings applies to a wide variety of workplaces. And the meme-like unicorn imagery accompanying the messaging shows how you have the power to "Make Work Better."
Notice the CTA as well. They're not going in for the sale just yet. This ad is an opportunity to present Slack as a resourceful tool to cut down unneeded meetings with a reliable but fun work tool.
Wool & Prince: Free Boxer Brief Offer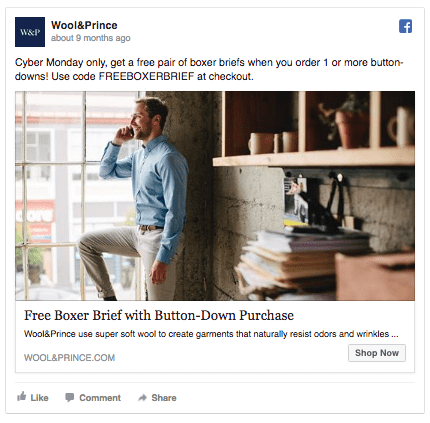 Who doesn't love free stuff? Wool & Prince takes advantage of one of the oldest tricks in the book — free giveaways. This ad is from a Cyber Monday sale, and they played it perfectly. Notice the limited time offer right at the beginning of the ad copy to give a sense of urgency. This is followed by the offer of free briefs. The copy ends with the coupon code. It's simple. It's concise. And it gives the consumer all of the information needed to make a decision.
That's why the CTA for this ad is "Shop Now." The limited time offer means that the consumer needs to act fast. That's why the ability to buy immediately with the click of a button is the perfect CTA for this ad.
Dollar Shave Club: The Smarter Wave to Shave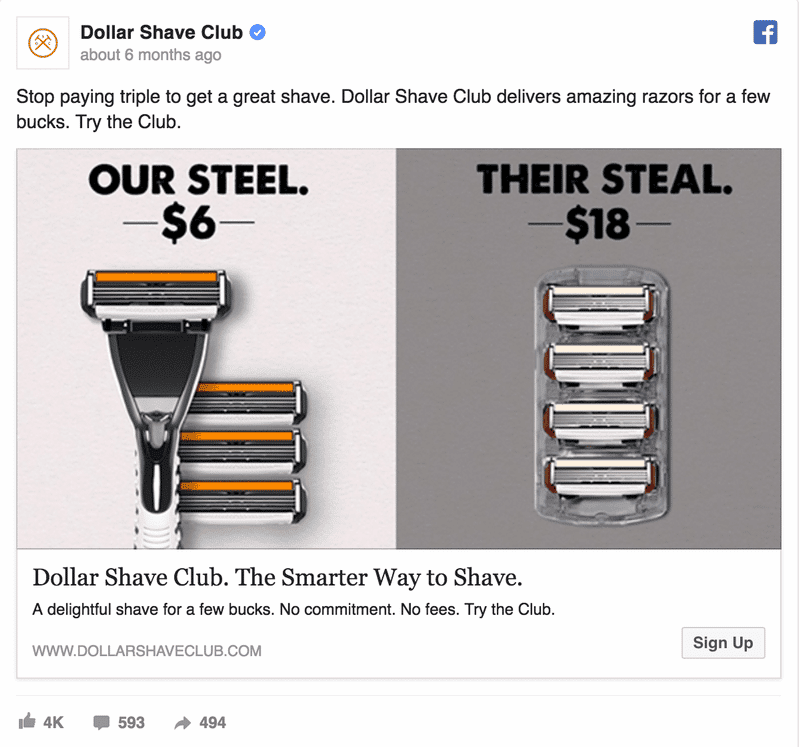 This list wouldn't be complete without the kings of Facebook advertising — Dollar Shave Club. This illustrious razor company has made their living off of ecommerce, spending big money on witty and successful ad campaigns. Let's take a look at this ad example. Dollar Shave Club is affordable, and they want everyone to know that. So this ad doubles down on that notion in both the copy and the image. The clever copy in the image gives the reader an almost "dad joke" chuckle, without being too cheesy.
They want their customers to feel like they're getting a deal, and they're more intelligent for doing so. Therefore, the bottom of the ad reads "The Smarter Way to Shave." Their millennial audience swimming in student debt is all about saving money — it works.
Amazon: Our Recommendation For You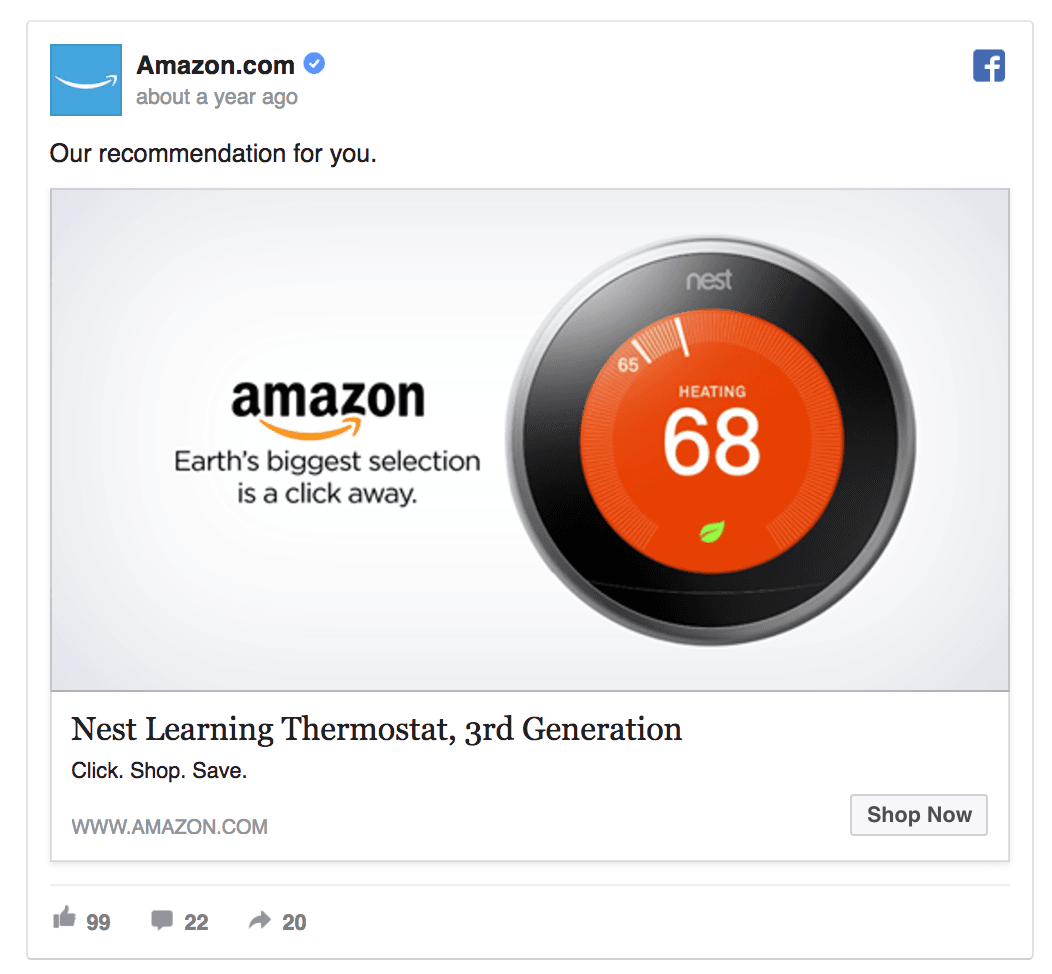 To be honest, this ad works for very specific reasons. Amazon customers have essentially traded a good portion of their privacy and in exchange for a perfectly well-rounded customer experience. This is a retargeting ad aimed at existing Amazon consumers that are thrilled to be presented exactly what they need. But it's a good lesson in making the lives of your consumers easier.
Amazon has spent years investing in understanding their market, their customers and their values. They have developed trust with their customers to ensure that this type of ad doesn't seem like "too much." It works because of the values they have instilled in their company that the customer is at the center of Amazon's value system.
Heal: Get A Great Doctor To You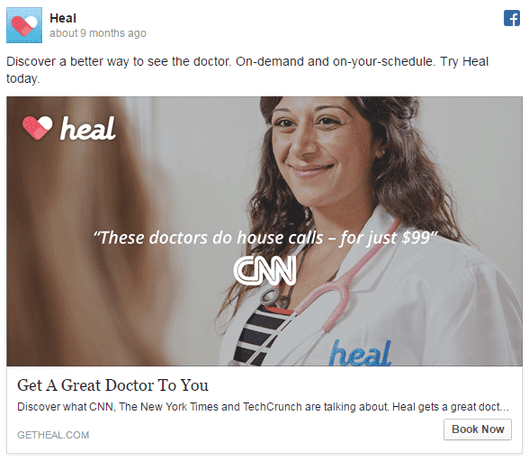 This deal seems a little too good to be true. Getting a doctor to make a house call for under $100 seems like a scam. That's why Heal took their ecommerce campaign to Facebook with a big, bold quote from a well-trusted news source plastered onto the image.
This ad does it well for a couple of reasons. The copy does a good job of explaining exactly what the benefits of Heal are. The image is friendly and includes a credible news source. The ad recognizes the troubles that accompany a doctor visit — and provides a solution to a common pain-point for it's customers. Words like "on your schedule" and "discover" are strategic, and appeal to the busy but intrigued consumer. It's highly targeted and very effective.
Ecommerce isn't going anywhere
Every single day that passes the world becomes a little more digital. Brick and mortar stores aren't completely out of style, but it would be a devastating mistake for businesses to ignore this market.
I included examples from a variety of markets for a reason. I wanted to show you just how diverse this marketing tactic is. Workplace communication softwares, clothing companies, razor brands, ecommerce superstore's, health companies; the possibilities for brands to utilize this platform are endless.
There are no boundaries for brands here, just a opportunity to understand their target audience and provide a solution catered to them.