Your site is not an island which exists alone in your industry. Instead, your site is an airport. You want a steady stream of both inbound and outbound traffic.
Popular blogs are a great resource here. You can write a guest blog for a popular site or connect with a popular blogger to help promote your brand. This type of person is called an "influencer."
Here's my complete guide to connecting with bloggers, including some great tools I recommend:
Find Appropriate Bloggers
You want to connect with bloggers who already have a large fan base as well as established expertise in your industry.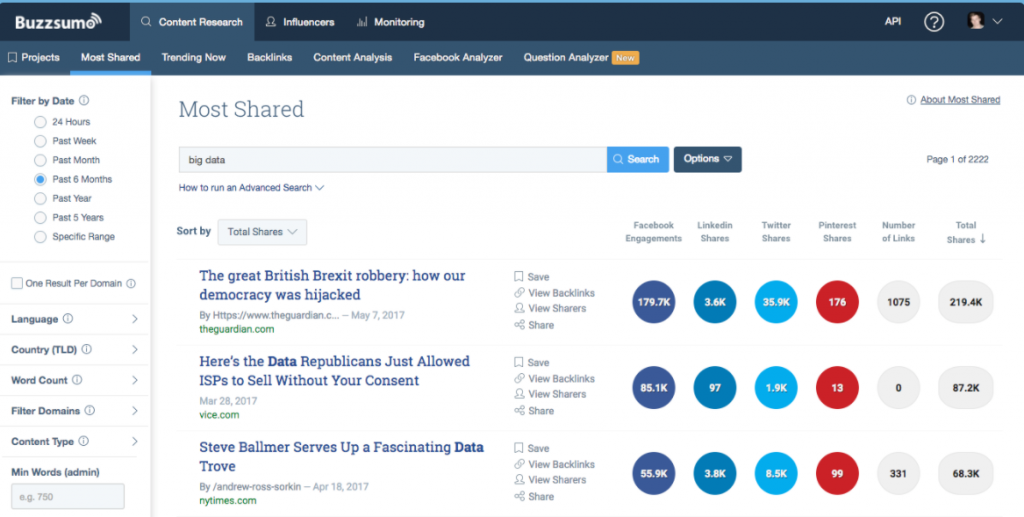 This a valuable tool for finding out where your audience likes to go. Buzzsumo lets you search social media platforms for topics and keywords. You can:
Filter by type, such as brand names or industry influencers
Filter by location
Filter by the number of social shares
By entering keywords related to your industry, you can find the social media platforms your potential audience prefers.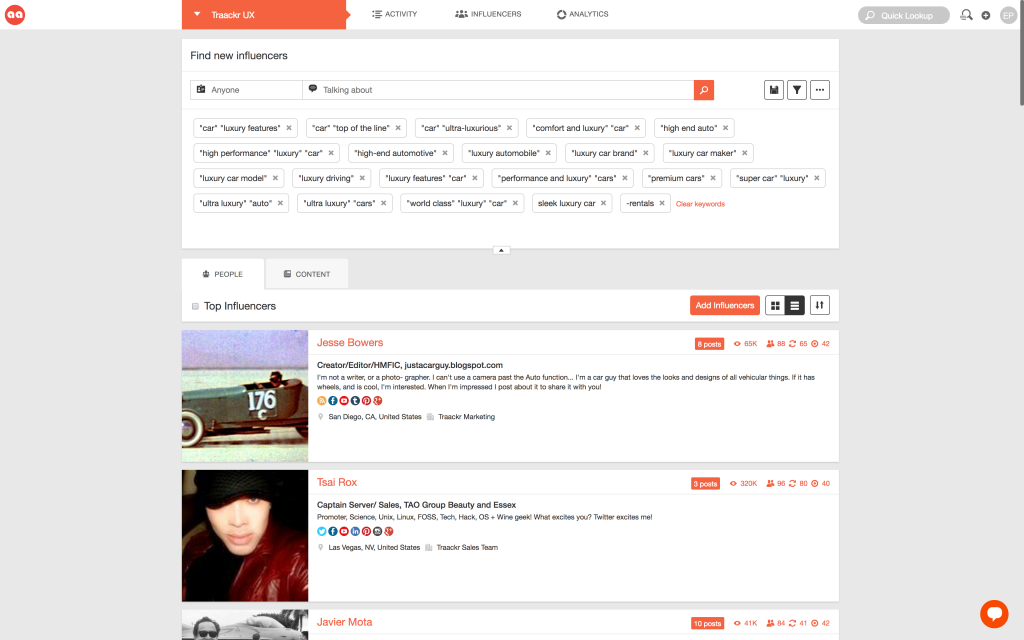 Developing connections with other brands and influencers in your industry is an ongoing process. Unfortunately, it can also be a bit confusing. You have a ton of other issues to deal with regarding your business. Traacker helps you stay organized.
Traacker not only helps you identify influencers, it also helps you manage the relationship over time. You can easily track how much of an impact each influencer has on your brand. This lets you prioritize the personal relationships you need to improve or develop.
Top features of Traacker include:
An easy to read score of the positive effect an influencer has on your brand
Conversion tracking tools
The ability to easily import your existing contact list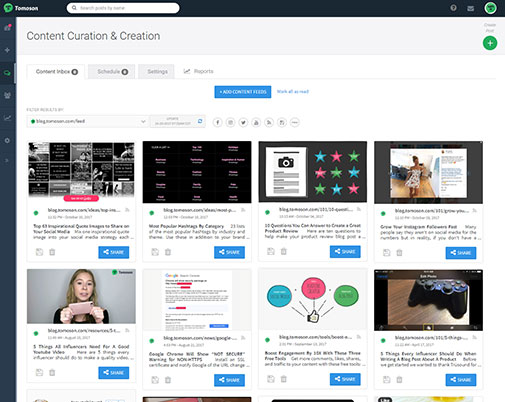 This one's a little different. I use Tomoson when I don't know much about the space and need to find top influencers relatively quickly.
The site lets you Find Influencers by keyword. The generated list of influencers can be refined in a number of detailed ways including:
Size of social media audience
Completion percentage
Number of website visitors
Reach of influence
The benefit here is that major influencers across many industries are already using the Tomoson system. You don't need to find them organically. Plus, you're able to easily compare and contrast the attributes of many influencers at a glance.
I also like how Tomoson is free to use if you want to search and then review the results.
The Impact of an Influencer
Every industry has influencers. These are usually people but they can also be organization or even brands. An influencer is someone who has gained the trust of their audience. They're considered an expert in their niche or industry.
If an influence likes a product or service, their audience will take notice. After all, people tend to trust other people. If an established blogger, with a reputation for honesty, praises your product you'll often see a dramatic increase in brand awareness among your potential customer base.
How to Approach an Influencer
You want to build relationships with influencers. This often a process of creating and nurturing a human connection. Start with an introductory email. Offer a free trail of your product or service. After all, the potential positive PR is well worth the cost of a few products.
Avoid any pushiness. Stay away from the hard sell. A top influence is likely approached by those who are looking to increase sales. The influencer doesn't really get anything from this, however.
You need to demonstrate value. The easiest way to do this to create a quality product which the influencer will be happy to support.
How you approach the influencer will also have a big effect on your success at building a relationship. Be polite, professional and patient. Building great contacts can take time, but the results can be well worth it.
Building a successful business, online or off, is heavily dependent on creating relationships between people. While creating a connection with potential customers is important, that's also not the only connection you need to make.
The programs listed above have always helped me stay organized. Combined with the relationship tips, I've had great success in connecting with influencers.