Content marketing is the new industry standard and it's constantly changing and evolving to meet the needs of the industry it lives in.
But as with most avenues of media — the most successful outlets are those that appease our dwindling attention spans. There is no better outlet at the moment than video.
We consume it so much we rarely even realize it's happening. Sure, we all sit down and fall down YouTube holes every once in a while, but are we actually aware of how much video content marketing we're consuming?
Video marketing is diverse. It can be subtle and rarely noticed, it can be literally an advertisement, it can even be in your face and openly promoted by your favorite content creator. But regardless of what it is, it must have a goal and a strategy to reach it.
This popular form of content marketing is definitely taking over, there is no doubt about it. Companies have been investing a good portion of their budget towards video content for years now.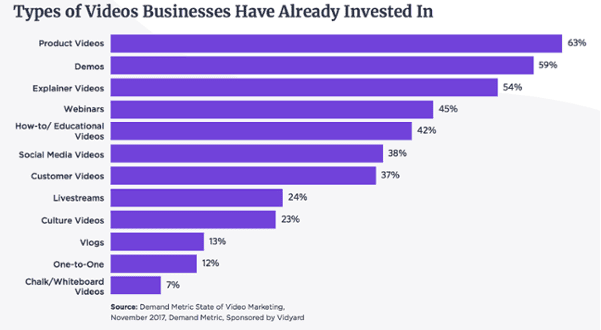 As you can see there are a bunch of video content types that successful businesses are already implementing.
Video marketing isn't going to completely replace other content types such as:
Blogging
Infographics
White papers
eBooks
Memes or Gifs
Interviews
Checklists
Case studies
No, that just isn't how this works. This content type is there to expand your current objectives or create new avenues for your business. Video marketing works twofold.
You can create original video content centered around a specific goal
You can recreate current pieces of content in video form
Depending on your angle, your budget or your objective — creating video content will typically fall into these two camps. If you're just getting started, we would recommend recreating or refurbishing some of your existing content by converting it to video form.
Not only is this a great way to save some time and resources researching or creating a brand new piece of content, but it allows you to embed your new video content piece into an existing piece of content.
Understanding video content isn't nearly as complex as it sounds. One of the best pieces of advice I've seen revolves around storytelling. Even if your video is about a dry subject, create the basic principles of a storyline in order to keep the audience interested.
Vidyard has a great article explaining the four main components of storytelling. Here's a quick look at their key points.
Don't be vain
Keep it contextual
Find your format
Make it compelling
Video content can also be a great way of complimenting an existing piece of content. It may not be a shot for shot remake or retelling of content — but rather a different way of illustrating a point.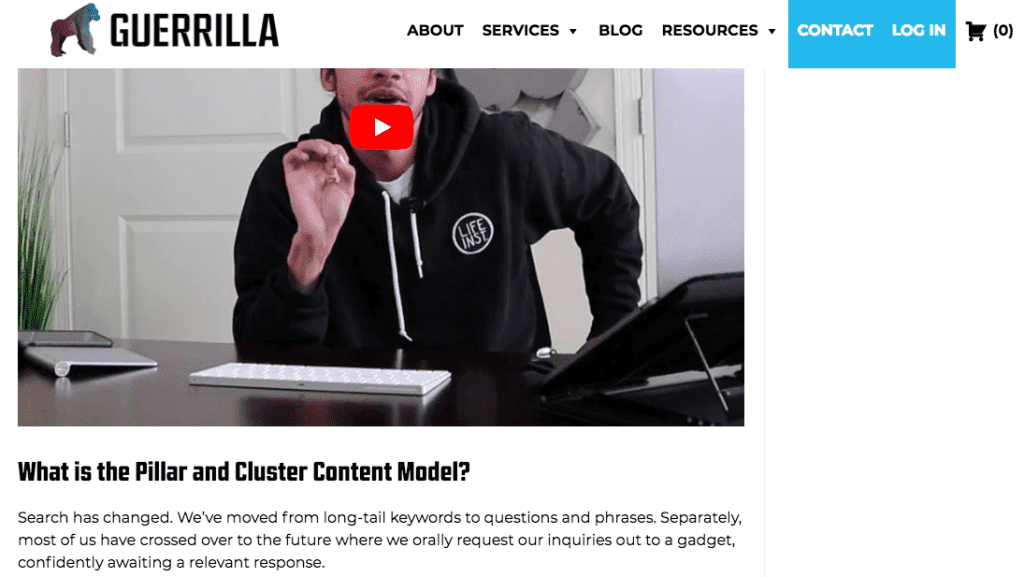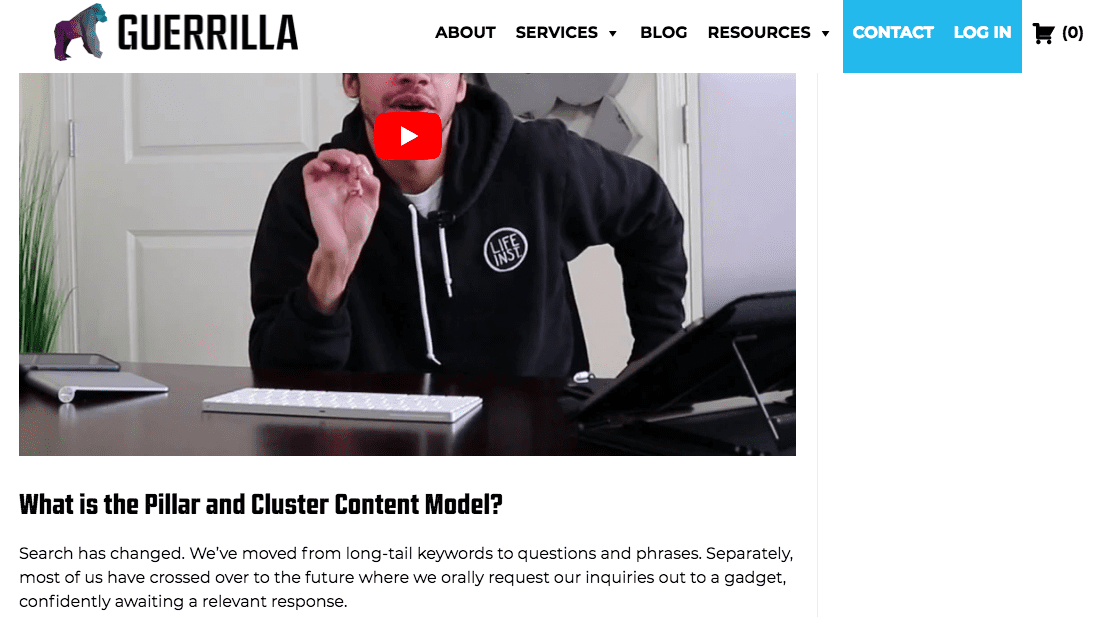 If you take a look at what we did above, we embedded a video going over some of the talking points in the blog at the very beginning. This allows readers to become viewers if they would rather listen to the information. It also increases page dwell time.
While the example above is a blog, you can do this with your service or product pages as well. The same principle applies — dwell time is increased which will help you in the SERPS.
But let's not get too bogged down by the why of video marketing and get to the hows.
Let's dive into the different types of video content you can use to market yourselves — and how you can implement your new content!
Where to upload your videos
Youtube
It's amazing to see so many platforms supporting video creation and uploads. Sure, the revolution largely started with YouTube and its platform still maintains its prominence in the video marketplace.
YouTube has a pretty unique history and has transformed it's platform into both a video search engine and a social platform. The ability to subscribe and support channels while also having a keyword oriented search format has made YouTube into a marketers dream.
One of the biggest fallacies with a platform like YouTube is that gaining a following will be quick. It's just the truth. Ask any successful YouTuber and they'll tell you just how long it took them to gain their subscribers. Putting out consistent content (usually on a schedule) is the best way to gain traction and build a consistent following.
You also have to be diligent in understanding the questions and types of content your particular audience will respond to. For businesses, the best type of YouTube content will be:
Product unboxing
Product or service demos
Educational or explainer content
Webinar or long form videos
Influencer partnering
For the most part these are self explanatory. You want your video content to be valuable and useful. If you have a product or service you should have all the bases covered in video content.
When we talk about influencer partnering, this has become probably the most lucrative means of video marketing over the past few years. There are influencers in almost any niche on YouTube and just like you are looking for content for your channel — they are also looking for content on theirs.
Creating a partnership or a relationship with influencers in your niche can help grow your audience and prominence in the thought leadership space you're aiming for.
Youtube is not the only place for video content, and it may not the best place for your videos.
Facebook
We can all either thank or hate Zuckerberg for the ways in which Facebook has changed and taken form over the years. It all started as a way to keep up with friends online and has turned into something very different.
Similarly to YouTube, creators have often used various social platforms to share their content. The same can be said for businesses. Facebook continues to be a great place to share video content but where it truly shines is with video ads.
Facebook has been known for its immense tracking abilities (something that got them into some trouble when they teamed up with Cambridge Analytica). Sure, it's a bit creepy how much Facebook is able to create psychographic profiles of all their users — but this like striking gold for marketers.
Below is just a tiny snippet of the ways you can tailor your video ad campaign. You can also target age, location, gender, interests, habits…the list goes on. The deeper you go, the more successful your advertisement will be.
You can even create different ad sets inside of one campaign. This allows you to cater to each individual video ad to its own audience if applicable.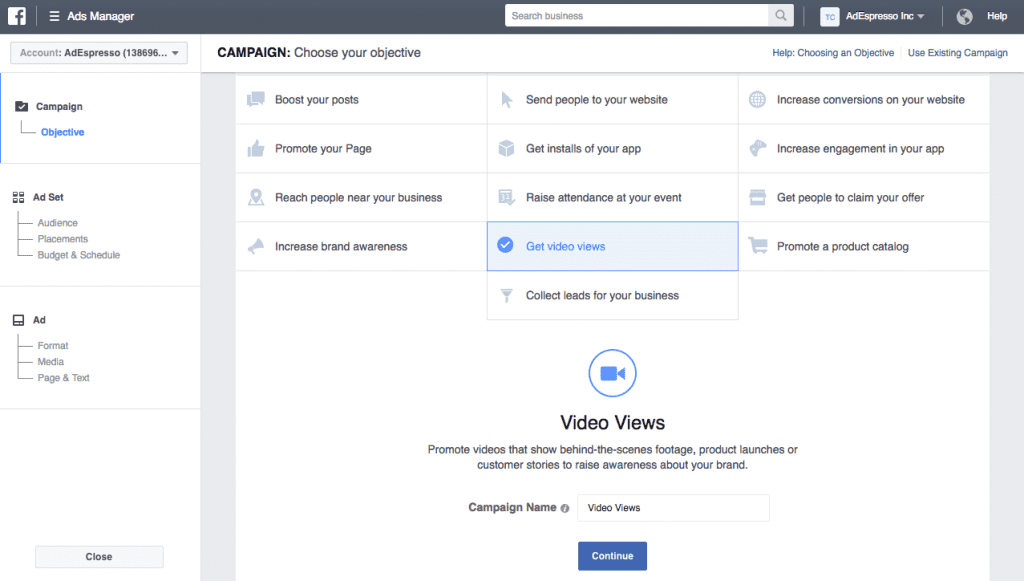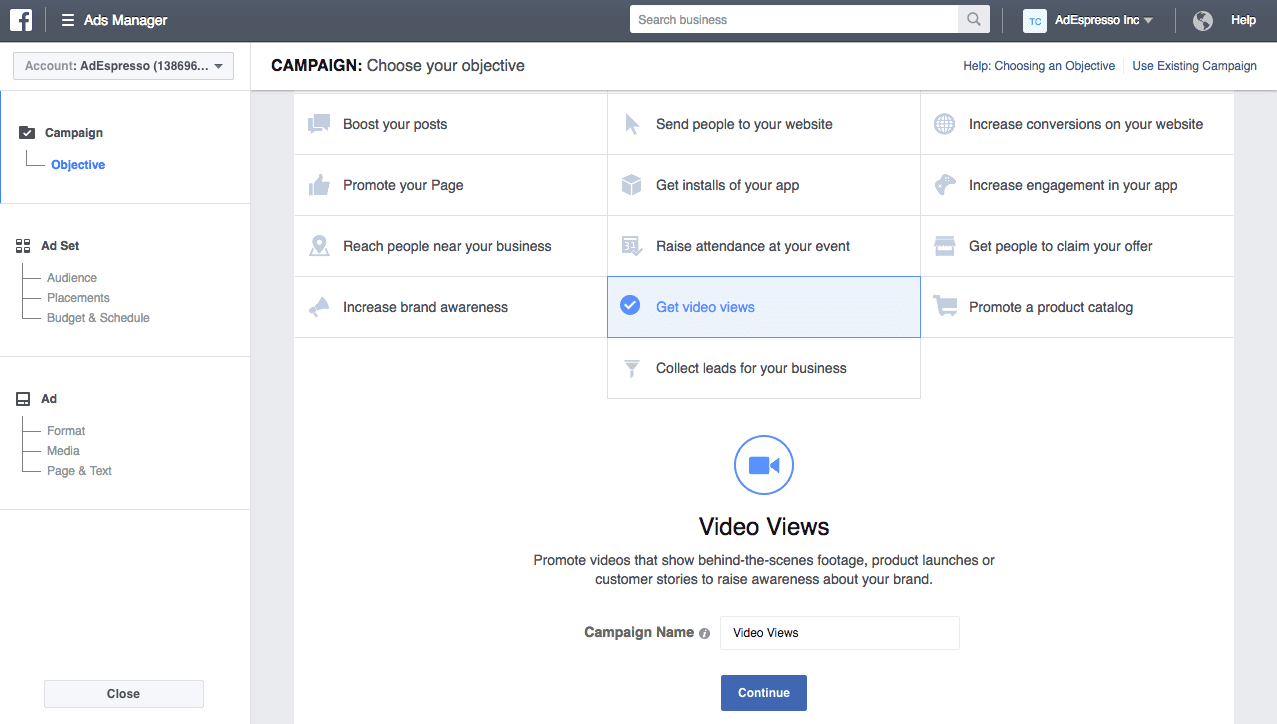 You're also able to track the advertisements and make adjustments whenever you would like. When creating ad campaigns, data is obviously your best friend. Facebook's ad manager makes this process simple and quick.
Instagram
We know, Facebook is a social platform. But it's robust ability to create entire campaigns around video content puts it in its own bucket. There are however other social channels that are great for video marketing. I
Gary Vaynerchuk is notorious for his presence on pretty much every social platform. But not too long ago, I saw him really pushing for Instagram. IG has long been a photo sharing platform but video content has pretty much taken over.
This allows businesses and pages to get creative within the one minute time limit. But now the game has changed even more with Instagrams new feature: IGTV.
This allows for longer form video content and storytelling which has definitely created some pretty unique video marketing ideas.
Do what you know
Our final piece of advice when it comes to video marketing is to stick with the things you know at first. It's definitely OK to branch out once you have an established creating and posting schedule down with a wealth of content.