An increasing number of site owners are looking to expand their SEO strategy. With Google receiving over 63,000 searchers at any given second, every audience imaginable is using organic search to find answers to their questions.
If you're running a business, expanding your SEO strategy or like to be kept in-the-loop on new software, we've got news for you.
SEO veteran Neil Patel has acquired a tool to help you do just that… And it's on track to become a SEO staple, if Neil's history has anything to go by.
Neil Patel started in the world of SEO when he formed Crazy Egg – a tool that shows site owners where their visitors are clicking. Since then, he's branched out and formed many other successful SEO products (including Kissmetrics!), and has been named as one of the 100 most brilliant companies by Entrepreneur Magazine.
On his website, Neil offers three free SEO tools:
SEO Analyzer – to understand the ranking power of a URL
A/B Testing Calculator – to determine which of your split tests is more successful
Ubersuggest – to find similar keywords and expand your targeting strategy.
Today, we're talking about the last one– the latest addition to Neil's portfolio of products.
The Ubersuggest Takeover
Ubersuggest allows site owners and SEOs to expand their keyword targeting strategy. By entering a primary keyword, this keyword research tool will automatically fetch hundreds (maybe even thousands) of similar keywords to complement your strategy.
But why is Ubersuggest such a necessity for businesses looking to propel their SEO power this year?
Well, because it caters to one of Google's more complex algorithms: Latent Semantic Indexing. This means search engines will understand that certain phrases mean a similar thing. In a world where relevancy is key, you're able to consolidate your topic and boost your relevancy for key search terms.
Prior to Neil's takeover, the Ubersuggest tool was created by a one-trick pony company. They didn't offer any other products alongside the keyword targeting tool, making it a great investment for Neil.
(That, plus the fact he already owns other SEO tools that can be used in conjunction to really boost the SEO power of a user's site.)
What's New?
Since Neil took over the Ubersuggest tool and hosted it on his personal brand's site, there have been a few changes.The most notable being the complete branding overhaul.
Instead of the red color scheme used by the first owners of Ubersuggest, Neil has added his own spin – in the form of color schemes that match his existing brand exactly.

Now, any visitor to the Ubersuggest landing page will instantly recognize that it's now owned by Neil Patel. The logo in the left-hand corner makes it obvious, but returning visitors to Neil's sites are likely to spot the consistency in assets such as fonts and colors.
Using the New Ubersuggest
Although the tool itself hasn't changed dramatically since Neil's takeover, I wanted to share the information Ubersuggest allows SEOs and site owners to find, and improve their strategy.
To get started, simply enter the primary keyword you're looking to expand on. If you're looking to optimize a site, press "Web" from the dropdown menu. You can also optimize images, Google Shopping campaigns, YouTube videos and news articles by clicking the most relevant option.
Then, Ubersuggest will get to work.
Within a few seconds, you'll find a detailed list of relevant keywords to be used in your targeting strategy. It'll also shed some light on the keyword practicality, allowing you to understand which options are best to include – and which may be best left out.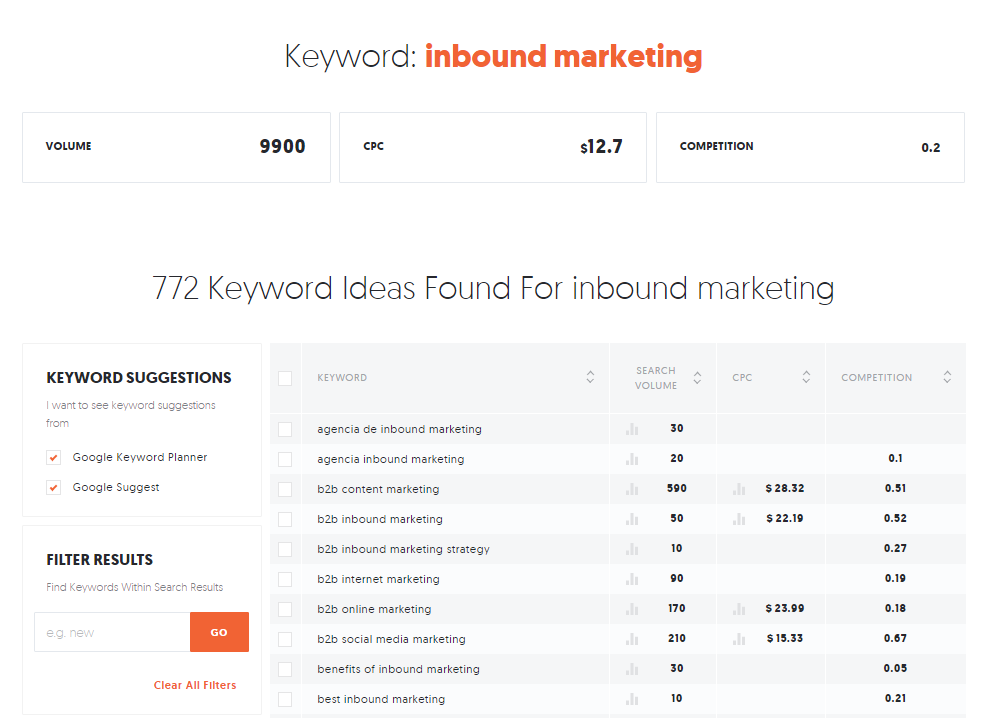 Using my example, we can see my original keyword, "inbound marketing", has an average monthly search volume of 9,900. However, if I was a small business, it might be almost impossible to rank highly – especially when the competition is ranked at 0.2.
Ubersuggest has recommended a list of other keywords which may be easier (and more successful) for me to target.
The phrase "B2B inbound marketing" has a slightly lower search volume, but it's more relevant to my business. Plus, it's ranked as 0.52 for competition, meaning it may be easier for me to hit the organic search jackpot when optimizing my page for this search term.
Ubersuggest vs. Google Keyword Planner
If you're no stranger to the world of keyword expansion tools, you'll likely have heard about Google's Keyword Planner. Although this a popular alternative, Ubersuggest is much more practical. Here's why:
Ubersuggest retrieves data from Google Keyword Planner and Google Suggest, offering more keyword variations.
You don't need an AdWords account to explore keyword options; Ubersuggest is a simple webpage that isn't hidden behind accounts or gated content.
The interface is much easier to use.
We can see that Neil Patel has already made his impression on Ubersuggest, and we predict that its fame will only rise in the upcoming year.
Which keyword targeting tools do you use? Has Neil's involvement persuaded you to join Ubersuggest and leave your current software? We'd love to know your opinion on Neil's new venture.