Keyword research is one of the most important parts of SEO. Without proper research and planning, you're making your campaign far harder than it needs to be.
Keyword research is the process of finding phrases that people search for on Google on other search engines. Preferably, you'll want to find keywords that have weak competition. This weak competition will make it easier for you to rank for them.
The lower the competition, the fewer links you'll need to rank for the phrase. In general, the shorter the keyword, the higher the competition.
Most keyword research tools have a monthly fee. However, there are some free alternatives:
Google AdWords: Keyword Planner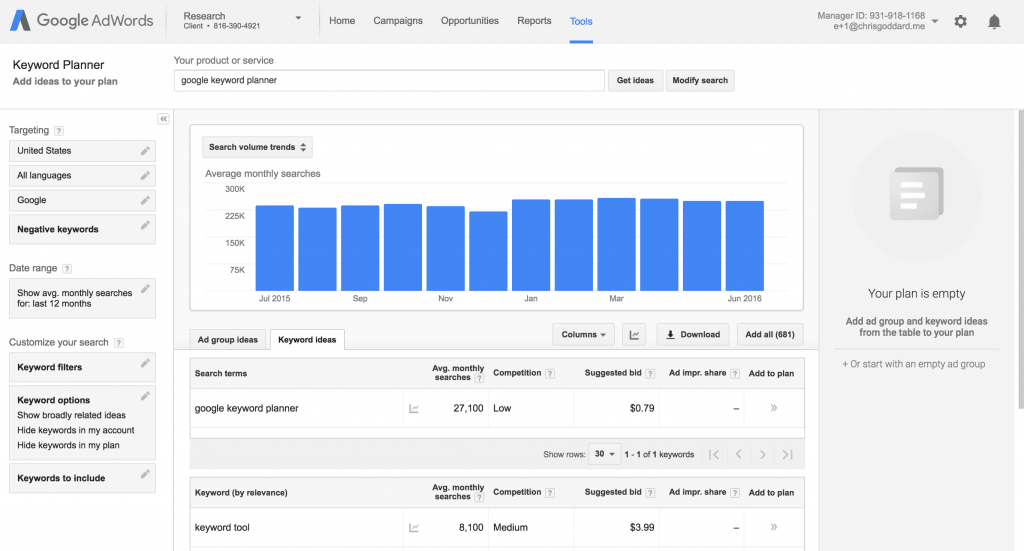 The Google AdWords Keyword Planner is for people using Google's AdWords program to display ads. However, you can use it to find keywords around your industry.
Recently Google has changed the tool so that you can't see exact search volume unless you spend a lot of money on ads. However, it's still useful for finding phrases that you can write about on your blog.
Google Suggest

The 'suggest' feature at the bottom of Google results pages is the easiest KW tool there is. Simply do a search for something in your industry and scroll to the bottom of the results page.
There is a small section that will show "searches related to" your search phrase. The suggests feature isn't particularly comprehensive, but it can be useful for quickly finding related searches.
Ubersuggest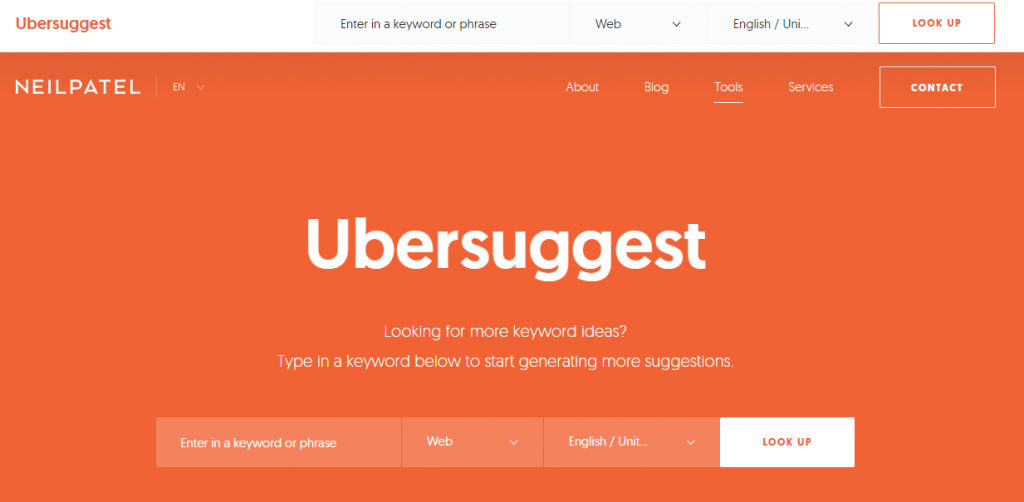 Ubersuggest is a simple tool that you can use to find related phrases from a keyword that you input.
It doesn't appear to show any volume or difficulty data, but you can see data sourced from Google Trends. These trends will show you the popularity of the keyword over time.
KeywordTool.io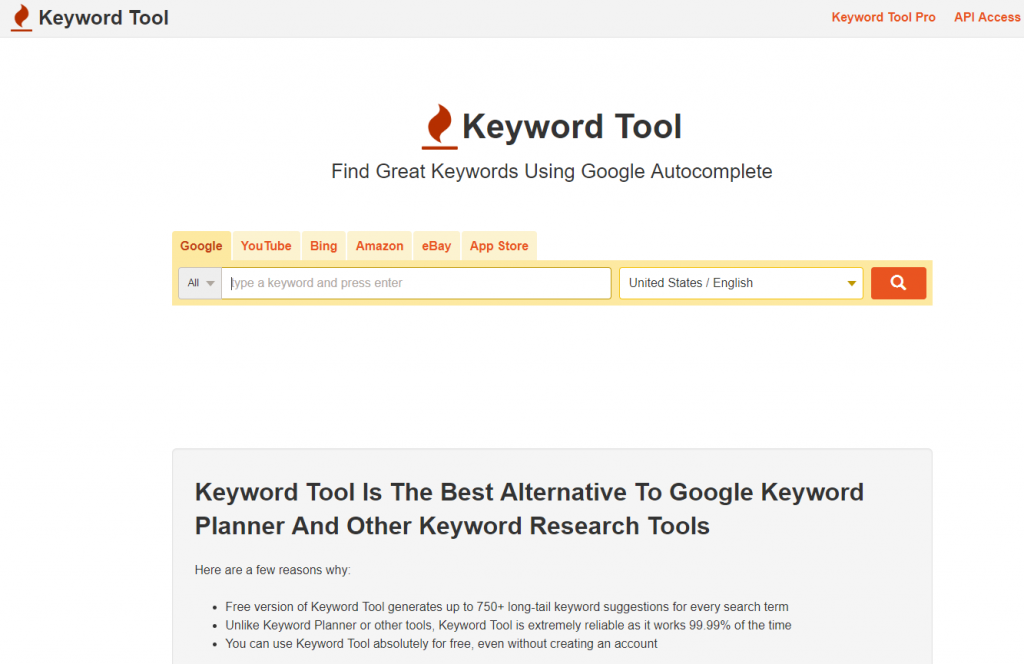 KeywordTool has a free tool with an upgrade to a monthly subscription to see search volume data. This program will show up to 750 keywords for free.
One feature that sets this apart from Ubersuggest is that you can look for "questions."
For example; if you searched the phrase "cars," it shows keywords such as "are cars made of aluminum" and "should cars be warmed up."
This option is useful for SMB's who are looking for questions to answer for their potential customers.
Wordtracker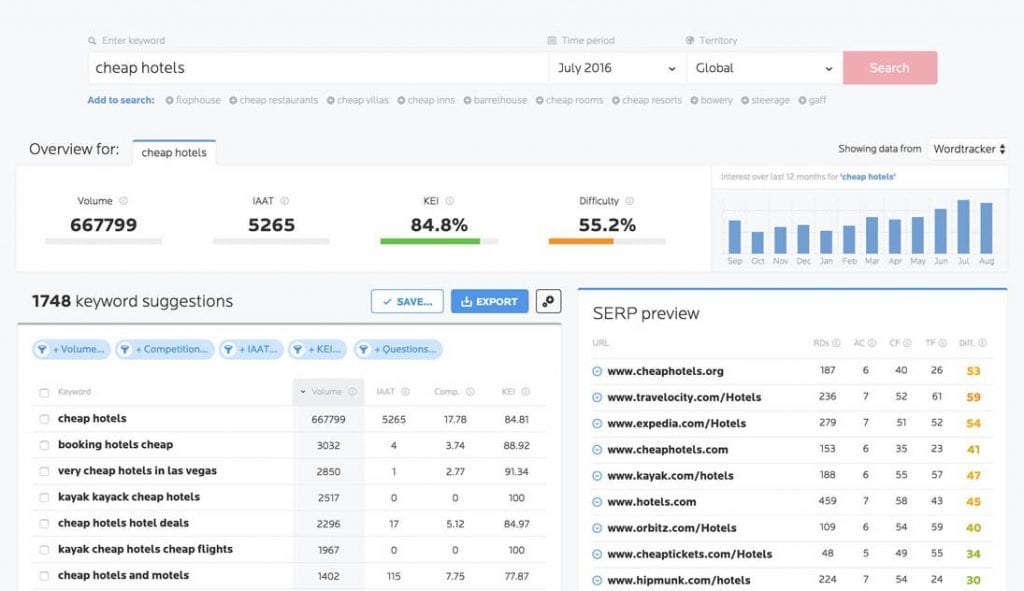 If you're looking for search volume data, then Wordtracker is a great free option. It also has its own competition metric, helping you to decide which keywords are worth your time.
Unfortunately, the free version will only show you 20 keywords per search. However, if you find a keyword on another tool that you're interested in you can put it into Wordtracker and see its search volume.
Wordstream

Just like Ubersuggest, this tool will show you keywords, but it hides the search volume. You can upgrade to the paid tool if you'd like to see the Google Search Volume and Competition.
KW Finder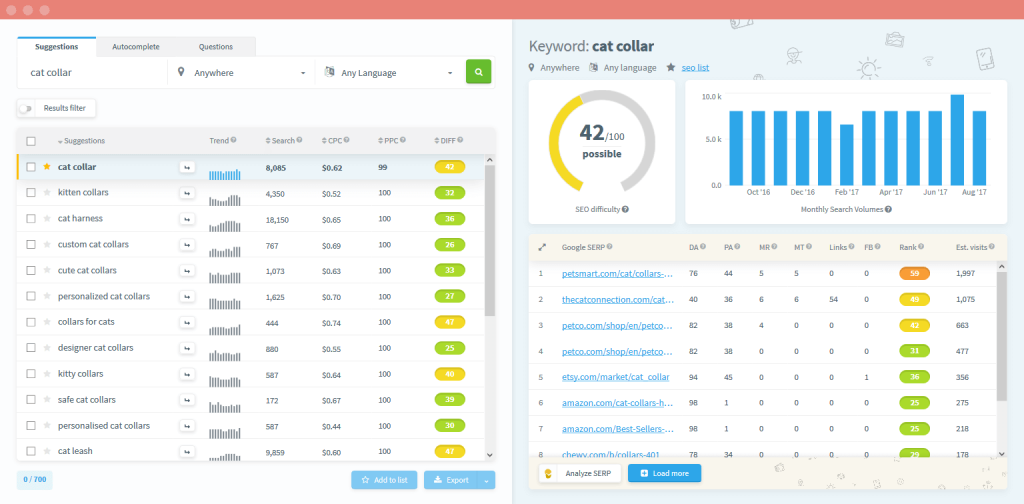 KW Finder is one of the best designed free tools out there. It is limited because it usually requires a monthly subscription, but it offers more data than other free tools.
You can use suggestions, autocomplete and questions searches to find different types of keywords.
The free tool will show you keywords, their search volume, CPC, and difficulty. It performs just as well as paid tools but is limited in the amount of searches that you can conduct for free.
You can only perform three searches per day so be careful with the keywords that you choose.
Answer The Public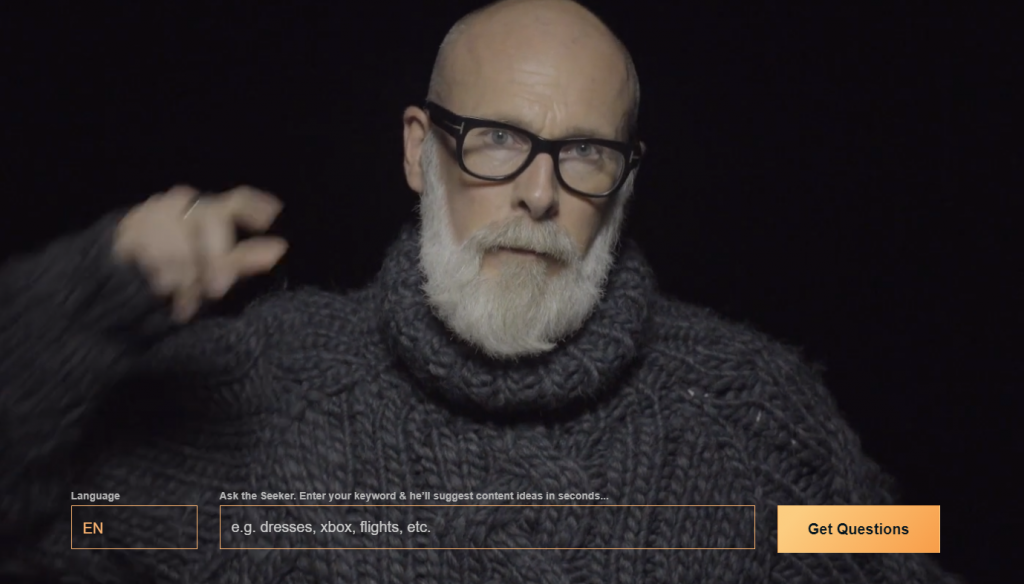 Answer The Public is an interesting tool that has become popular in recent months. It requires you to input a seed keyword and then will suggest content ideas that the public want to read.
You can segment the data by country, helping you to get queries for your local area.
Other tools like Ubersuggest and KeywordTool can find results by taking your seed keyword and adding each letter of the alphabet after. They then scrape the results from Googles "suggestions" and show you the results.
Answer The Public uses similar logic but instead of each letter of the alphabet, they use words like "for," "with" or "what." These generate questions instead.
Faq Fox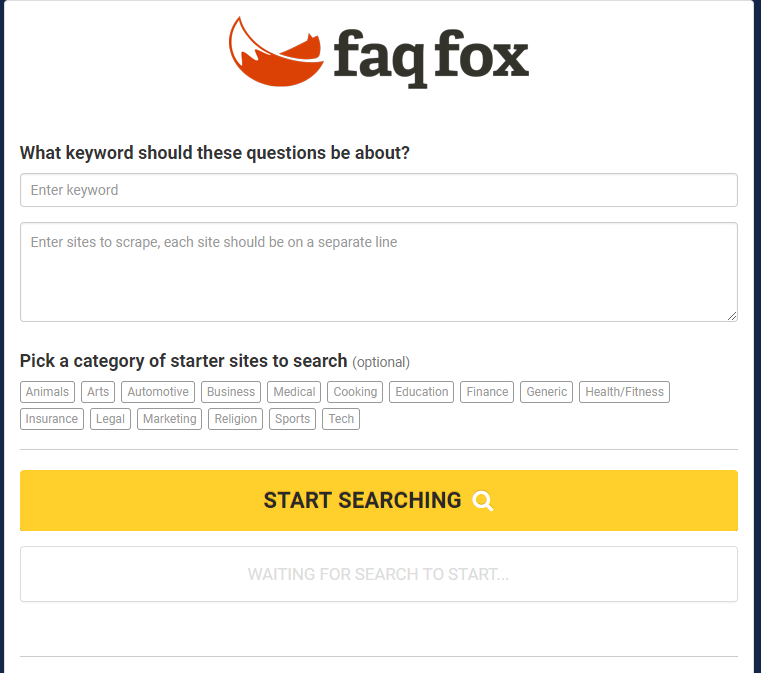 FaqFox operates in a different way to all the other tools on this list. Instead of searching Google results or queuing the keyword planner, FaqFox scrapes data from a website of your choosing.
You need to input a keyword and a list of sites; then it will find related content from that site.
Conclusion
Free keyword research tools are obviously limited in their capabilities when compared to paid tools, but they are a great starting point.
If you're restricted by budget, then you should try to use all of the tools to collect a different list of keywords and then remove any duplicates.